Philippe Clement
My passion for nature began when I started rock climbing in the Belgian Ardennes, more than 30 years ago. Spending lots of time outdoors, I became interested in wildlife. Many years later, two other passions came into my life: photography and travel. In 2000, I combined all three to start a career as a part-time climbing instructor and a part-time freelance nature / travel photographer. Today, I spent my time traveling all over the world, from the Alaskan tundra and Costa Rican cloud forests to the Kalahari and Sonoran deserts.
Philippe Clement's pictures have appeared around the world in exhibitions, calendars, postcards, books and magazines, such as BBC Wildlife magazine, National Geographic Traveler Magazine, Encyclopedia Britannica, Barnes & Noble, Terre Sauvage, DK Eyewitness Travel Guide, Rough Guide, New Scientist, IUCN (International Union for Conservation of Nature), Grasduinen, WWF, Ranger Rick and Natuurmonumenten among others.
Closer to home, he is a regular contributor to the Publishing House Averbode, and also writes articles for Pasar and Bergen Magazine.
Wildlife photographers spend a lot of time in the field, preparing to take pictures. We scout locations, approach many animals that either run or fly away, out of camera range, and often we sit for long hours in photographic blinds waiting, waiting, waiting, and ...waiting. I can't count the times people have told me, "You must have a lot of patience".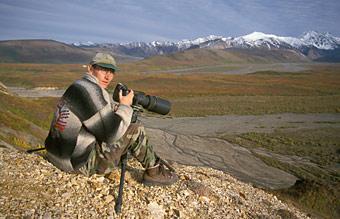 ---
Collecties van Philippe Clement